La totalidad de los espectáculos de Frank Zappa and the Mothers en junio de 1971 en el Fillmore East de la ciudad de Nueva York se lanzará en una nueva caja masiva de 8 CD, The Mothers 1971.
Programada para ser lanzado el 18 de marzo a través de Zappa Records/UMe, la colección incluye el encore jam de Zappa del 6 de junio de 1971 en el Fillmore con John Lennon y Yoko Ono. El lanzamiento ha sido producido por Ahmet Zappa y el archivista de Zappa, Joe Travers.
The Mothers 1971 también contiene el espectáculo de Zappa del 10 de diciembre de 1971 en el Rainbow Theatre de Londres, durante el cual, después de una interpretación de I Want To Hold Your Hand de The Beatles, Zappa fue atacado por un fan trastornado, sufriendo graves heridas que lo dejaron en silla de ruedas durante casi un año.
En 1971, Zappa seleccionó apresuradamente lo mejor de las actuaciones de Fillmore para el álbum en vivo, Fillmore East, junio de 1971. Ese álbum también, junto con The Mothers 1971, ha sido remezclado y remasterizado por separado para una reedición de lujo de 3 LP.
El set del Rainbow Theatre del 10/12/1971 también recibió una reedición de vinilo de lujo de 3 LP por separado, con una nueva mezcla y notas de Eddie Kramer.
La actuación del Rainbow Theatre resultaría ser la última en presentar la formación de Mothers con Ian Underwood en vientos y teclados, Aynsley Dunbar en la batería, Jim Pons en el bajo, Bob Harris en los teclados y coros, y Howard Kaylan y Mark Volman en voz/diálogo.
También se incluye en The Mothers 1971 el sencillo Tears Began To Fall/Junier Mintz Boogie, y una especie de «concierto híbrido» inédito, extraído de las actuaciones de la banda el 1 y el 3 de junio de 1971 en Scranton y Harrisburg, Pensilvania.
La caja también viene con un folleto de 68 páginas que incluye una entrevista en profundidad con Underwood (conducida por Ahmet Zappa), además de notas de Kramer y Pons, notas de Travers cinta por cinta y fotografías de Henry Diltz.
THE MOTHERS 1971 – SUPER DELUXE EDITION (8CDs) / SUPER DELUXE DIGITAL EDITION (8 CDs EQUIVALENT)
CD 1: FILLMORE EAST, NEW YORK CITY, NY, JUNE 5, 1971 – SHOW 1
1. Peaches En Regalia
2. Tears Began To Fall
3. Shove It Right In
4. Status Back Baby
5. Concentration Moon – Part 1
6. The Sanzini Brothers (Sodomy Trick)
7. Concentration Moon – Part II
8. Mom & Dad
9. Intro To Music For Low Budget Orchestra
10. Billy The Mountain
11. King Kong
CD 2: FILLMORE EAST, NEW YORK CITY, NY, JUNE 5, 1971 – SHOW 2
1. Peaches En Regalia
2. Tears Began To Fall
3. Shove It Right In
4. Intro To Music For Low Budget Orchestra
5. Billy The Mountain
6. Little House I Used To Live In
7. The Mud Shark
8. What Kind Of Girl Do You Think We Are?
9. Bwana Dik
10. Latex Solar Beef
11. Willie The Pimp
CD 3: FILLMORE EAST, NEW YORK CITY, NY, JUNE 5, 1971 – SHOW 2 (CTD; TRACKS 1-6)
1. Do You Like My New Car?
2. Happy Together
3. "Any Chord Of Your Choice"
4. King Kong – Part I
5. Lonesome Electric Turkey
6. King Kong – Part II
FILLMORE EAST, NEW YORK CITY, NY, JUNE 6, 1971 – SHOW 1 (TRACKS 7-15)
7. Fillmore Improvisation
8. Peaches En Regalia
9. Tears Began To Fall
10. Shove It Right In
11. Status Back Baby
12. Concentration Moon – Part I
13. The Sanzini Brothers (Sodomy Trick)
14. Concentration Moon – Part II
15. Mom & Dad
CD 4: FILLMORE EAST, NEW YORK CITY, NY, JUNE 6, 1971 – SHOW 1 (CTD; TRACKS 1-4)
1. The Story Of Billy The Mountain
2. Intro To Music For Low Budget Orchestra
3. Billy The Mountain
4. Chunga's Revenge
FILLMORE EAST, NEW YORK CITY, NY, JUNE 6, 1971 – SHOW 2 (TRACKS 5-8)
5. "Herd Of Cattle"
6. Peaches En Regalia
7. Tears Began To Fall
8. Shove It Right In
CD 5: FILLMORE EAST, NEW YORK CITY, NY, JUNE 6, 1971 – SHOW 2 (CTD)
1. The Story Of Billy The Mountain
2. Intro To Music For Low Budget Orchestra
3. Billy The Mountain
4. "Conglomerate Assembly"
5. Little House I Used To Live In
6. The Mud Shark
7. What Kind Of Girl Do You Think We Are?
8. Bwana Dik
9. Latex Solar Beef
10. Willie The Pimp
11. Do You Like My New Car?
12. Happy Together
CD 6: FILLMORE EAST, NEW YORK CITY, NY, JUNE 6, 1971 – SHOW 2 (CTD)
JOHN & YOKO ENCORE SET (TRACKS 1-6)
1. Well
2. Say Please
3. King Kong
4. Aaawk
5. Scumbag
6. A Small Eternity With Yoko Ono
RADIO SPOT, SINGLE VERSION, B-SIDE & OUTTAKES (TRACKS 7-10)
7. Homemade Radio Spot
8. Tears Began To Fall – Single Version
9. Junier Mintz Boogie – Single B-Side
10. Homemade Radio Spot Outtakes
BONUS HYBRID CONCERT: HARRISBURG/SCRANTON, PA 1971
STATE FARM SHOW ARENA, HARRISBURG, PA, JUNE 3, 1971 (TRACKS 11-20)
11. Peaches En Regalia
12. Tears Began To Fall
13. Shove It Right In
14. Status Back Baby
15. Concentration Moon – Part I
16. The Sanzini Brothers (Burning Hoop Trick)
17. Concentration Moon – Part II
18. Mom & Dad
19. My Boyfriend's Back
20. Tiny Sick Tears
CD 7: BONUS HYBRID CONCERT: HARRISBURG/SCRANTON, PA 1971
STATE FARM SHOW ARENA, HARRISBURG, PA, JUNE 3, 1971 (CTD; TRACKS 1-3)
1. Call Any Vegetable
2. The Story Of Billy The Mountain
3. Intro To Music For Low Budget Orchestra
STATE FARM SHOW ARENA, HARRISBURG, PA, JUNE 3, 1971 & WATRES ARMORY, SCRANTON, PA, JUNE 1, 1971 (TRACK 4)
4. Billy The Mountain
WATRES ARMORY, SCRANTON, PA, JUNE 1, 1971 (TRACKS 5-6)
5. Willie The Pimp
6. King Kong (Outro)
RAINBOW THEATRE, LONDON, ENGLAND, DECEMBER 10, 1971 (TRACKS 7-9)
7. Zanti Serenade
8. Peaches En Regalia
9. Tears Began To Fall
CD 8: RAINBOW THEATRE, LONDON, ENGLAND, DECEMBER 10, 1971 (CTD)
1. Shove It Right In
2. "Pain In The Ass"
3. Divan: Once Upon A Time
4. Divan: Sofa #1
5. Pound For A Brown – Part I
6. Super Grease
7. Pound For A Brown – Part II
8. Sleeping In A Jar
9. Wonderful Wino
10. Sharleena
11. Cruising For Burgers
12. "That's Your Tough Luck"
13. King Kong
14. I Want To Hold Your Hand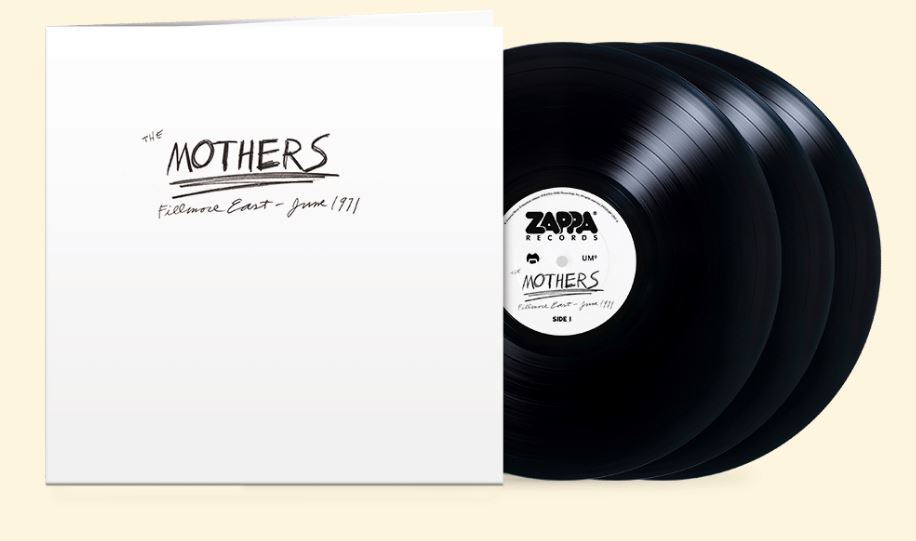 LIVE AT FILLMORE EAST, JUNE 1971 – 50TH ANNIVERSARY (3LP)
LP 1: SIDE A
1. Little House I Used To Live In
2. The Mud Shark
3. What Kind Of Girl Do You Think We Are?
4. Bwana Dik
5. Latex Solar Beef
6. Willie The Pimp – Part I
LP 1: SIDE B
1. Willie The Pimp – Part II
2. Do You Like My New Car?
3. Happy Together
4. Lonesome Electric Turkey
5. Peaches En Regalia
6. Tears Began To Fall
LP 2: SIDE C
1. Well – featuring John Lennon and Yoko Ono
2. Say Please – featuring John Lennon and Yoko Ono
3. Aaawk – featuring John Lennon and Yoko Ono
4. Scumbag – featuring John Lennon and Yoko Ono
5. A Small Eternity With Yoko Ono – featuring John Lennon and Yoko Ono
LP 2: SIDE D
1. King Kong – Solos
LP 3: SIDE E
1. Billy The Mountain: Billy The Mountain, Phase One of "The Plot," Phase Two & Newscast, The Legendary Low Budget Hero, The Flies
LP 3: SIDE F
1. Billy The Mountain (Ctd): Studebacher Hoch, The Conclusion
2. Homemade Radio Spot
3. Tears Began To Fall
4. Junier Mintz Boogie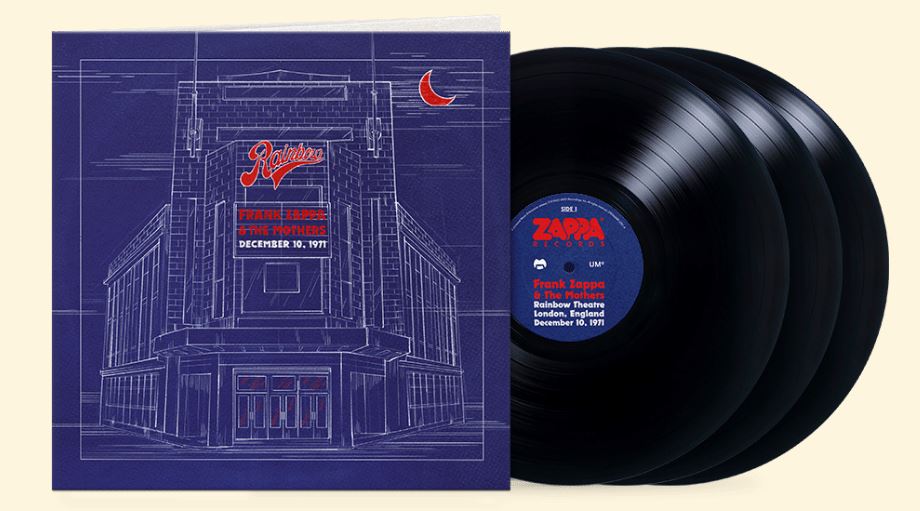 RAINBOW THEATRE (3LP)
LP 1: SIDE A
1. Zanti Serenade
2. Peaches En Regalia
3. Tears Began To Fall
LP 1: SIDE B
1. Shove It Right In
2. "Pain In The Ass"
3. Divan: Once Upon A Time
4. Divan: Sofa #1
LP 2: SIDE C
1.Pound For A Brown – Part I
2. Super Grease
3. Pound For A Brown – Part II
4. Sleeping In A Jar
LP 2: SIDE D
1. Wonderful Wino
2. Sharleena
3. Cruising For Burgers
LP 3: SIDE E
1. "That's Your Tough Luck"
2. King Kong – Part I
LP 3: SIDE F
1. King Kong – Part II
2. I Want To Hold Your Hand